If you're serious about content marketing for your business, then you need a content calendar.
For starters, a blog content calendar means you'll never get stuck wondering what to write about. Writing once is easy, blogging every week is harder. A content calendar — also called an editorial calendar — can solve that problem.
You can easily spend lots of money on marketing automation platforms like Hubspot, iContact, Rainmaker, and InfusionSoft. But you can also create a fully featured calendar without spending a dime. Or you can do something in between.
All of them are great, but the only "perfect" or "best" content calendar is the one that works for you. That fits in with the way you already keep track of your days.
In this post we'll look at some options.
Why You Need a Blog Content Calendar
Bottom line is this: A content calendar makes it possible — sustainable — to keep blogging or content marketing week after week. Whether that's your team or just you.
Optimizing Google Business Profile means keeping it correct, complete, and current.
Click To Tweet
For a small investment of time every month or two at most, a calendar can both ease your workflow and spare you countless headaches. In short, it:
Guides you through the creation process, from planning through publication;
Keeps your assets (texts, images, etc.) organized as you create; and
Creates a permanent record for future reference and use.
Let's look at these individually, and then at the three basic types of calendars.
1. Make a Plan
A content calendar guides you through the three stages of content creation: planning, creation, publication.
The calendar format lays your entire content marketing out visually in front of you so you can see what you're doing, what you need to do, and when you plan to do it.
Once a month, every other month, every quarter — spend a couple hours to map out your content for the next period of time. That can include your blog, social media, YouTube videos, free downloads, promotions, product launches, whatever your content marketing includes.
Once that's done, you'll never feel stuck not knowing what to blog about each week. You'll start thinking ahead and taking notes, so when you do sit down to write your blog, you'll be better prepared.
If you have a team of creators writing posts, creating graphics, or managing your posting, a calendar can help you track assignments, status reports, and due dates.
In short, a content calendar can help you schedule key dates and track who's doing what and where they are in the process — all key to a sustainable workflow.
2. Stay Organized
A content calendar can include more than deadlines.
You can use it to collect notes and ideas, social media posts, and links to all the assets (images, videos, links, docs) you'll need for each post or product.
This is especially useful later on, when you want to reuse assets to promote your posts later. Think of all the time you'll save not having to remember months later where you saved these things!
3. Keep Track
Finally, a content calendar can serve as a reference for future use. See above paragraph. You'll have in one place all the keywords, hashtags, images, and other assets you'll need to promote your blog posts later.
You'll also have at hand all the text, titles, and descriptions you'll need for repurposing your posts into videos, slide decks, courses, and other informational products.
How I Do It
All this so far is what I do. I plan my content for this blog about 2-3 months in advance. I have the larger plan of the final book to guide me, but I'm writing without much regard to that. Instead, I schedule my posts for each month around a category, with some variety to make sure I'm covering all categories equally.
With this plan in place, I can see where to add in free downloads, e-courses, or whatever to go along with the blog.
What are the Types of Content Calendar?
There are three basic formats for content calendars:
Visual – to see your plan at a glance
Spreadsheet – to track data about your content
Combination – the best of both worlds
Visual Calendar
Many people describe themselves as "visual" learners or workers: They need to see a picture. A content calendar that looks like a calendar may be just right.
The good news is you can use the calendar you already use. Google Calendar, Microsoft Outlook, and Apple Calendar all work great, and they're either free or included in what you're already paying for.
You really don't need anything more complex than these to create a highly usable content calendar.
Within each platform, simply create a calendar called Blogging (or whatever) alongside your default Personal and Business calendars. You can easily hide it so it doesn't clutter up the view of your daily Zoom calls and other activities, then show it when you need it.
In addition, each of these integrate with their respective notebook (e.g. Google Keep, Apple Notes), task list, email, document, slide show, and other apps. Outlook conveniently has notes and tasks built in rather than standalone, but Chrome browser plugins give you a similar Google-world experience.
Spreadsheet Calendar
If you're managing a team of content creators, a spreadsheet format may serve you better.
The chart format is great for keeping track of your content and making sure you have everything. You can use columns to track the status of projects (Draft, For Review/Approval, etc), assign people to them, and schedule deadlines.
Any spreadsheet software will work for this. In fact, some of the best content calendars in this format use separate tabs for blog posts, social media, promotions, product launches, and more.
If you search the web for "content calendar template" or "editorial calendar template," you will turn up lots of them for free. While similar, they're all quite different in what they include and how they organize it. There's no way to say one is inherently better than another; you'll have to sign up and see for yourself.
Combination or Hybrid Calendar
As I said above, a hybrid content calendar is how I work. (Second disclosure: the links to CoSchedule and Airtable in this post are affiliate links, so if you click and buy through them, I earn a commission at no extra cost to you.)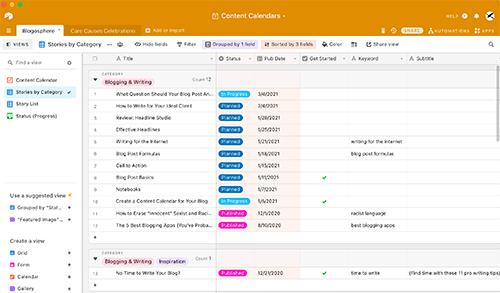 Airtable is similar to the popular platform Trello. Both offer calendar views of your data, as well as kanban views for tracking status and organizing in other ways.
And although both are good for project management, only Airtable has an integrated spreadsheet view, so you can switch easily between that view and the calendar — the best of both worlds!
In addition, the ability to sort and group records in Airtable (and other spreadsheets) means it's easy to build and track a search engine keyword strategy grouped by blog category. (see image above)
Trello cards conveniently display checklists, file attachments, and other "to do" functions, which Airtable can additionally display as data fields in a spreadsheet.
CoSchedule
For an all-inclusive content marketing calendar at a very affordable price, you can't top CoSchedule. I've written an in-depth review of it, so I'll keep this brief.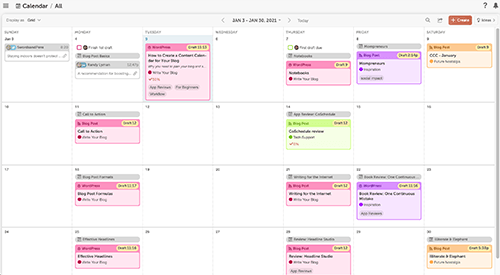 CoSchedule is more like a "content creation calendar" that integrates all the other creative apps I use — Google Docs, Evernote, etc. — into a visual calendar I can view in a web browser or inside WordPress itself (as a plugin). The plugin is really handy; it means I only need to log in once to access my entire blogging system.
From the calendar I schedule and create projects as blog posts, ebooks like this one, webinars, social campaigns, and other informational products I'm creating for Writing for the Age of Lies.
Calendar Plugins
If you'd rather keep your personal and content calendars apart, consider a WordPress plugin for the content.
The Editorial Calendar plugin is popular because it's simple, effective, and free. Need to reschedule a post? Just drag and drop it in the calendar view. Click on it to get to work. Assign posts to different users. All the basics right in your WordPress site.
WP Scheduled Posts has about the same functionality but the inexpensive Pro version adds automatic scheduling of blog posts and social media.
PublishPress provides a functional calendar as well as an overview of your content, notifications to Slack and elsewhere, commenting, and other features useful for teams.
EditFlow is a free, open-source content calendar with a bevy of advanced features you'd expect to pay for, including metadata and a "story budget" view you can print and take to editorial meetings.
Oasis Workflow is a powerful workflow-oriented calendar useful for law firms, nonprofits, and other organizations that need a formal, documented process for review and accountability.
Get Started with Your Own Content Calendar
Here are some tips to create the content calendar that's right and works for you:
Start with the calendar you already use. See if you can simply add a blogging schedule. Then you won't have to check anywhere else to stay on top of it.
Set aside a couple hours one day to brainstorm and map out the next month or two of blog posts. You don't need to spend more time than that. You'll likely come up with new ideas and modify your calendar as you go along.
If you want to use a plugin, spend some time comparing them. You can install all of them on your WordPress site and activate them one at a time, then keep one and delete the rest.
The more you make a practice of working with your content calendar, the more natural it will feel, like your personal calendar.
That in turn will help you stay on top of your blogging and other content marketing, not just today, but week after week.
Visit my Blogging Resources page for links to the apps in this post and many more that can make your blogging life easier.