Behind in your holiday local marketing efforts? Fear not.
These nine tips are fast and easy to implement, and can help last-minute shoppers find your products and services during the holiday shopping rush.
We're going to make some adjustments to your Google Business Profile, where a few changes can have an effect faster than many other marketing strategies. And they cost nothing.
Meet Google Business Profile
Google Business Profile is your shop window to the world. It's what people see first in local search results. More than 90 percent of all search traffic happens on Google, and nearly half of that (46%) is people searching for products and services "near me" or "open now" or "in stock" etc.
Your Google Business Profile is what will help those people decide whether to come into your store—your website or physical location—instead of your competitor's store. It's your business's first impression, and frantic last-minute shoppers won't have time for much more than that.
So it pays to spend a few minutes making it look nice.
How and Where to Update Your Google Business Profile
There are two ways to update your Google Business Profile:
Chrome web browser
Google Maps
Most people use Maps on mobile and a browser on desktop or laptop, but really it's a matter of preference. The controls to edit your profile may look a little different but they do the same things: in Maps and Chrome, on desktop and mobile.
The Maps app in particular has many new features like navigation and image-based search results to make your business more visible and easier to get to, so it's worth getting to know the app from the user side.
Regardless of platform, you'll first need to sign into the Google account you used to create the Google Business Profile. Search for your business by name; it should come to the top, and now you'll see the profile management controls (see screenshots), which are invisible to anyone not logged in.
If you don't yet have one, you can get a Google Business Profile here. Then read my guide to optimizing it.
A Brief Warning: GBP Suspensions
Trust me, you don't want your profile suspended right before or during the holidays. It can take weeks or longer to get reinstated, and much persistence on your part. Your profile may still be visible during suspension, but you won't be able to make changes.
Google, like the new sheriff, is full of good intentions to clean up the town but gets trigger-happy in its eagerness. It's easier to get suspended now, even when you haven't done anything wrong.
Fortunately, you can minimize your risk.
Risk #1: Making too many changes at the same time can trigger a suspension. Even if they're all totally legit, all that change at once may raise a red flag.
Solution #1: Make one or two changes at a time. Google takes a few minutes to review most edits; you'll see a notice in colored text letting you know it's reviewing. Wait until that's done, or better yet, wait a few hours before changing more.
Risk #2: Major changes to your basic business information—name, address, phone number, or main categories—can trigger a suspension too.
Solution #2: Make changes with caution, and again, not many at once. Personally, I wait a full day after changing basic information before editing anything else. Do not under any circumstances be tempted to stuff seasonal keywords into your business name (now or any time of year); this directly violates Google's business naming policies.
Dealing with suspensions is a topic for another post, and the process is changing soon. But here is Google's business help form should you (hopefully not) need it.
Let's Dive In: 9 Tips to Boost Your Holiday Local Search Results
Unlike changes to your basic business information, updates to these areas are routine and shouldn't trigger a suspension.
Basically, use your Google Business Profile the same way you'd use a real shop window: to engage people passing by and get them to stop and look inside.
Update your holiday hours.
This is the first and (should be) most obvious thing you can do. In fact, update your holiday hours a few times a year. If you enable notifications, Google sends you reminders before major holidays.
We all know the frustration of showing up to find a place closed when its website says it's open. You'll never go there again and neither will your prospective customers.
According to research, nearly two-thirds (62%) of consumers "would avoid using a business if they found incorrect information online" and "7% of consumers would abandon their search for a business entirely if they found incorrect address details, compared to 3% in 2021."
Google Business Profile lets you easily add holiday and special hours, and these will be displayed in search results when the time comes.
Update your basic business attributes.
These are often overlooked, but letting people see what's unique about your business can make a difference in their decisions.
There are fields to indicate business ownership, accessibility, amenities, special services, and more—and Google continues to add options. Make sure yours are correct and complete. (See also #9.)
Update your products and services.
Adding descriptions to your service listings has been shown to improve local search visibility. And unlike categories (one primary, two additional), you can add lots of services. Google offers a preselected list; choose as many as are reasonably close to your offerings, but not inaccurate or misleading.
But don't stop there. Add a brief description of each one. It's a small thing, but it can make a noticeable difference in local search rankings. It can be simple enough: Copy/paste the descriptions from the product/service pages of your website.
Create posts.
Google Business Profile lets you create three types of posts to engage searchers:
Offer. Use offer posts to highlight your latest discount, special, or deal. Add coupon codes, start and end dates.
Update. Add news about your business, field or industry; seasonal tips; or other content relevant to your prospects and customers.
Event. Holding an event at your store? Appearing at a show or convention? Post about it here.
Posts keep your profile engaging and up to date, which makes it more likely searchers will click through to find out more.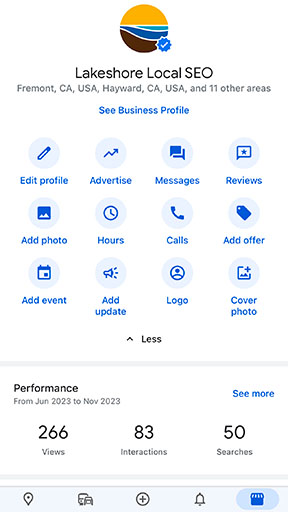 Add photos.
Add images to your profile posts (above); that's what people will see as the display carousel rotates among them.
Also, upload photos of your location, or better, encourage your customers to upload them from their visits. Photos show searchers what kind of shopping experience to expect when they visit your store. Take pictures of your holiday displays, or whatever provides an enticing view of your location.
Finally, upload a logo and cover photo to make your profile look even more professional.
Add an FAQ.
Adding a Frequently Asked Questions section to your GBP is a good idea anytime, but holiday shoppers have additional questions. Do you have it in stock? Do you offer rush delivery? Are you experiencing any shipment delays on popular products? This is the place to specify "order by this date to receive by that date."
As the business owner (and profile manager), create a simple FAQ by simply asking and answering your own questions.
Edit the Questions (or 'Add FAQ') section of your Google Business Profile. One at a time, post each question and answer, then the next. Note that new questions are added to the top, so if you want people to read them in a certain order, ask and answer them in reverse order.
Request and respond to reviews.
Responding to reviews is always important, but during the holidays you want to show customers that you're responsive and understand the frustrations they're bound to experience during the general holiday madness.
And don't forget to respond to good reviews! It shows you really appreciate the business.
Add calls, messaging, and booking.
You can engage with prospects and customers by activating the interactive features of Google Business Profile.
Add a link to your booking page in addition to your website link. Google partners or integrates with at least 150 booking services.
Activate the call, messaging, and "get quote" features so that prospects in a rush can contact you (and you can respond) in real time.
Activate the "automated FAQ" if it's available. Besides your FAQ (#6), GBP automatically responds to some customer questions with simple information it can pull from the profile, like hours and location. There's a simple toggle you can switch to activate this feature.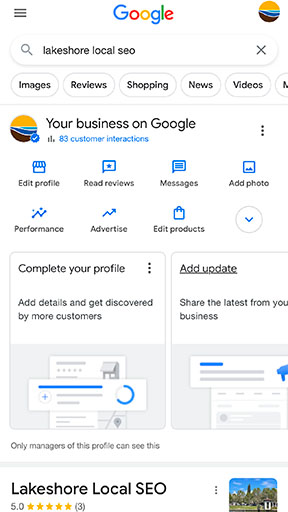 Use special features for your business type.
Certain business types have unique GBP features enabled. Restaurants, for instance, can post menus; hotels can provide room information; and tour operators can now offer ticketing and things-to-do options.
All of these can give your business a competitive edge—by providing more information that's easier to find—when people are making their choice.
Recap: Boost Your Holiday Local Search Results
One of the main reasons local consumers get frustrated with online shopping is inaccurate information: store hours, items in stock, service options.
So updating your holiday hours, business attributes, health and safety policies, and other basic information is critical. Shoppers expect accurate information, or they'll shop elsewhere.
It's also important to keep your Google Business Profile fresh and engaging with offers, posts, and photos about your business. Use the Q&A section to answer common questions ahead of time, such as availability or holiday shipping options. (It'll save you time answering the same questions over and over.)
Finally, engaging with your customers is important for building that know-like-trust factor that gets people to choose your business over your competitors. Make sure they can get in touch with you—and that you respond quickly.
That's the short of it: Keep your customers correctly and fully informed. At holiday time, people are searching (and often scrambling) for local information more than ever. Make it easy for them. Give them lots.
The more enticing your shop window, the more likely they'll come in.

Read the rest of the Local SEO Basics series here.