I founded Lakeshore Local SEO in 2022 to help local businesses survive and thrive in our uncertain times. To make local SEO accessible for local businesses who want more online visibility and conversions when people search "near me" or "open now" for products and services.
Local SEO is local search engine optimization.
My Local SEO Story Begins
My interest in local business actually goes back 37 years to a girlfriend I've been trying to forget for 36 years. We used to fight — not disagree, but actually fight — over the stupidest things imaginable, like which is the correct term: chickpea or garbanzo bean? I'm not making this up. In case you don't know, they're the same thing: one's the East Coast term, the other, West Coast. We finally had to settle it in a grocery store because there was no Google in 1985.
I knew it was a mistake the day I moved in. To her credit, though, whatever our conflicts, she was the first person I ever knew who made a point of shopping at local stores instead of big chains. It wasn't just about convenience, it was a point of principle. I didn't fully understand it then, but it stayed with me, even though I've tried to forget everything else.
Global and Local Traveler
When I was a reporter for the San Francisco Bay Guardian in the late 1990s we always put a strong emphasis on supporting local business. I did that first as a visitor's guide editor and later as a consumer affairs reporter. Today I'm the content coordinator of Montclair Living magazine, where again I have a journalistic role in supporting a community and local businesses. I enjoy that.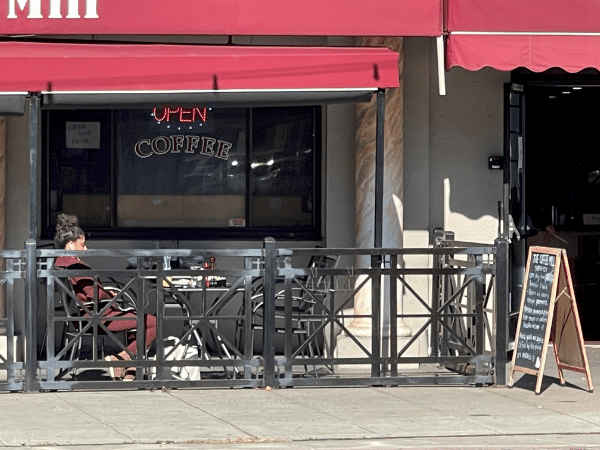 And when I lived in Europe in the early '90s — in Germany and the Czech Republic — I always loved going to the local bakery or meat shop or apothecary or whatever. So different from the malls of my childhood in southern California. It took a little more work than a grocery store but somehow it was more fun. I felt more in touch with my food.
When I moved into my current apartment by Lake Merritt almost 20 years ago, I didn't have a car so I frequented the shop in my neighborhood. And then the recession ended in 2010 and what I call the Oakland Renaissance began, and my neighborhood sprang to life with new shops and restaurants. And when a coffeehouse opened at the end of my block I had one of the Top 5 things I want in a living situation. I was very happy.
Pandemic Pivot
So when the pandemic hit and half of them closed or curtailed their hours, I felt it keenly. The businesses I'd watched come to life over the years and make my neighborhood awesome were now getting extinguished en masse. The coffeehouse — practically my second living room — went out of business early in the pandemic.
I pivoted my business to local SEO when I realized that helping local businesses was something I've actually cared about for a long time. It's about more than just getting found on the web. We've all seen firsthand how our lives are diminished when our favorite shop or restaurant around the corner isn't there any more.
The Local Difference
Local SEO is a branch of search engine optimization that's the foundation for marketing a neighborhood or service area business. When Google detects a search with local intent, it actually uses a different algorithm to deliver results that meet the searcher's need. If you type "pizza," Google assumes you're hungry, not researching the history of pizza in Roman times, and displays nearby pizzerias in the local pack (aka map pack) and other search results. (To get the history, ask more specific questions.)
Lakeshore Local SEO was founded in 2022 to be the go-to agency for business owners wanting to get started improving their local search presence. We're expanding our offerings to provide all the local SEO services your business needs to survive and thrive.
If this could be you, please contact us or start with our free Local SEO Audit Report.
Randy Lyman
Owner, Lakeshore Local SEO